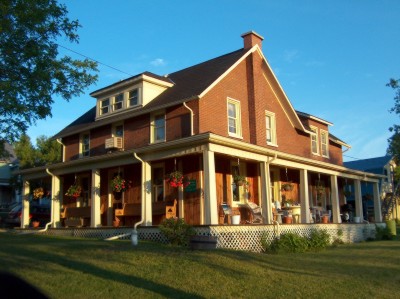 This site was one of the first settled in Kinmount and, according to local historian Guy Scott, definitely the first business site in the community. John Hunter was the first owner of the property ... the first, that is, since the local members of the Ojibwa Nation had been swept off the reservations in 1815. Hunter came in the late 1850s ... Scott credits him with being the founder of Kinmount. He owned the mill and, on this site, he had an inn-cum-tavern-cum-store. In 1872, Hunter sold all his holdings, including the mill, to William Cluxton and moved to Los Angeles. When the Victoria Railway arrived in the village in 1874, Cluxton had his property laid out into building lots and did very nicely. He also gave his name to the street outside the front door.
The front two-thirds of this house was built around the turn of the century by Michael Mansfield, who with his brother, had a hotel and an old fashioned general store down on the main street. The next owner, Fred Dettman, added on the back one-third of the house.
The Dettmans were also inn keepers and tavern owners, and dabbled in the sawmill business as well. They had the Dunbar House on the main street (which stood on the site of the present post office) until the Local Option vote brought in prohibition in 1908 and all the tavern keepers went bankrupt. Obviously that wasn't the end of Dettmans' success, because he owned the house until 1942.
1942 was the year of the Great Fire in Kinmount, when most of the villages' handsome main street was ravaged. Among the people who lost their businesses were the Butts, Harry and Ethel, who ran one of the hotels. Instead of rebuilding, they bought Fred Dettmans' big house on the hill. In addition to providing a home for their family of three girls and a boy, they ran it as a boarding house or small hotel, including among their clientele the school teachers of the day. There was a piano in the parlour and always a fire in the fireplace.

Harry and Ethel stayed in the house after their children grew up and moved away. After Ethel died Harry lived on here for another 12 years, occupying only the downstairs rooms, until he was no longer able to care for himself and went to a nursing home.
The vacant house was put up for sale and it stayed that way for two or three years, until one day in 1985 when Patrick Healey came riding by on his motorcycle. And now, thanks to him Kinmount House is once again a place of warmth where people gather, with a piano in the parlour and a fire in the fireplace.